Why Should I Get My Ducts Cleaned?
Regular air duct cleaning ensures that your furnace and air conditioner operate at peak efficiency. Air duct cleaning improves the air quality in your home by reducing dust, allergens, pet dander, hair, mold, mildew and debris found in your vents.
If you have moved into a newly built home or renovated your own home duct cleaning is an important step as you move in. Depending on the diligence of the contractor, the construction crew may have swept debris inside the air ducts. Dirty ventilation systems can lead to clogged coils and furnace filters. Materials commonly found in the duct work of new homes or homes that have undergone a major construction project include:

Screws and nails

Insulation fibers

Pieces of drywall

Sawdust

Lumber scraps

Plaster

Leftover crew garbage such as coffee cups, cigarettes

Unfinished landscaping will cause many months of dirt and dust to enter the home
All Seasons uses the push-pull method. We attach a high powered vacuum to your furnace to "pull" dust and debris, and at the same time using compressed air to "push" dust and debris back to the vacuum. Special tools are used to dislodge dirt and debris inside the ductwork and push and pull it towards the vacuum. Agitation devices are used inside the ductwork to ensure debris is loosened from the walls of the ductwork. Access holes are sealed according to industry standards. The entire system is cleaned from where air enters through the return grilles to where the supply air comes out at the registers.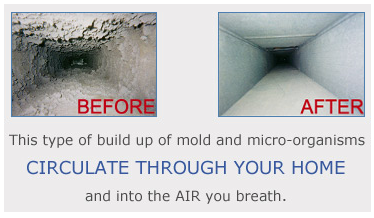 About the Competition
Other specialized tools for duct cleaning are used by our competitors, unfortunately, not all of these tools work as expected for the task. Many of the tools look to have been created simply by people only interested in trying to cash in on the growth of the duct cleaning industry. Tools such as shop vacuums with spinning brushes on the end of the hose look great in theory, but their design clearly lacks the ability to properly clean the entirety of the HVAC system. These systems fail to get into the main areas of the duct work such as the main trunk lines, especially when those trunk lines are in the ceilings and walls of the home. Not to mention, the only way to properly clean an air conditioning coil, reheat coil and heat exchanger is with the use of compressed air which these shop vacs clearly do not have. They also lack the ability to suck up large debris commonly found in ductwork from construction materials as their hoses are much too small to actually suck up the chunks of drywall, wood chips, insulation and all the other random things often found in ducts.
If requested All Seasons can provide a before and after photo of your duct cleaning.
All Seasons technicians are trained, experienced and fully insured duct, dryer vent, furnace and air conditioner cleaning professionals.
How Our Duct Cleaning System Works
Call today for pricing:

Wasaga Beach & area – 705-429-3353

Barrie & area – 705-607-0775

Bolton & area – 905-951-0768

Email Us


Joshua 24:15 ".....as for me and my house we will serve the Lord."